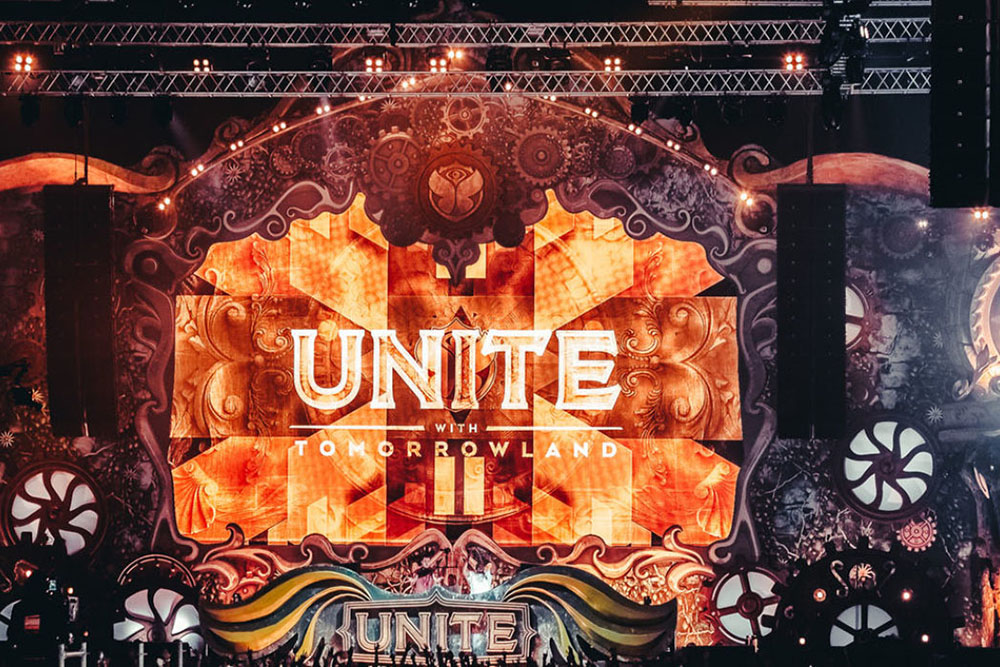 Unite with Tomorrowland
Abu Dhabi (DCT Abu Dhabi), in partnership with Dubai-based producer, organiser and promoter, Envie Events, connected more than 400,000 music lovers on Saturday July 28th, as revellers in du Forum, Yas Island were linked up via a live satellite connection to Belgium and beyond when the much-anticipated global EDM festival UNITE With Tomorrowland returned to the UAE.
Six other locations across the globe were also connected to the Tomorrowland main stage in Belgium, with Italy, Malta, Spain, Taiwan, Mexico and Lebanon also enjoying the world-renowned dance extravaganza.
Envie Events filled up the du Forum on Yas Island with thousands of revellers from 2pm – 2am, as the event was linked up live via satellite to the Tomorrowland mainstage in Belgium as well as to the other venues across the world.
The Abu Dhabi event featured live local and international DJs including the duo Lucas & Steve, SmokinGroove, Marcus Santoro, Regi, Barry Fore, Omar Basaad, D.O.D and Ummet Ozcan.
Headlining this year's line-up in the capital, 'Lucas and Steve' performed their hit club collaborations 'Summer on You' and 'These Heights', which have received millions of views online to date.
For these travelling artists, the crowds in UAE were fantastic. "We noticed immediately the huge energy that everybody was giving during the show," says Lucas de Wert.
"We heard a lot of stories about the Middle East and it's really growing music-wise," Steven Jansen added, "EDM is becoming the next big thing and that's what we saw."
Dazzling special effects in du Forum were synchronised with the show in Belgium to create an exciting atmosphere which highlighted the unique global connection. Party-goers got the opportunity to dance in real time to the tunes of renowned international DJ's including Afrojack, Armin van Buuren, Dmitri Vegas and Like Mike via the live satellite connection. This also involved remote control of lighting to ensure each of the 7 venues shared an almost identical visual as well as audio experience.
Protec were called on by Envie Events to deliver audio, lighting, video, scenic, staging and rigging solutions for what can only be described as probably the most elaborate festival on earth. Having successfully delivered the technical production for the festival held in Dubai in 2017, Protec's project manager Pieter Smuts said, "the show in Abu Dhabi was almost a breeze – which was fantastic because the heat of the UAE summer can really put a lot of pressure on the crew as temperatures hover in the high 40s. As the theme for Abu Dhabi was the same as the one in Dubai, it made it a lot easier for us as we already knew the challenges we could have potentially faced."
Abigail Bates, heading up Protec's lighting crew, said: "The major difference for lighting was that the venue was smaller than last year.  This meant that we didn't need to implement a large amount of audience lighting, as we did last year, because the audience area was not as spacious.  Not having to install a large amount of audience lighting also made the install slightly easier, as it meant that we could concentrate all our efforts on rigging the fixtures into the stage set, which is the most complex and time consuming part of the lighting rig."
When asked about the challenges she faced, Bates explained, "The main challenge for lighting on Tomorrowland, in both years that we have done it, has been the physical rigging of the fixtures.  For every fixture, and there are around 80 fixtures attached to the stage façade, firstly the exact position of the fixture needs to be determined. It is important to be as precise as possible when determining this because the lighting/stage design has to look the same as the other UNITE events, and a fixture or group of fixtures rigged in the wrong place would be very noticeable when the live stream footage is playing from the other countries.  Once the position for the fixture has been determined, a hole has to be made in the set, a pipe put through this hole, and then a rigging structure installed on the back of the set to hold this pipe in place.  This whole process means that for every fixture, at least 4 lighting crew and 1 staging technician is needed."
The lighting spec was outlined by the main Tomorrowland show designers in Belgium and Protec's broad inventory had all the required fixtures. These included Robe Pointe, K10 Wash, Scenius Profile, VL3500 Wash, Stormy CC Strobe, SGM P5, and Molefay 4 light/Par 36.
"It's important that we used fixtures as specified in their lighting rider so that all the Tomorrowland UNITE shows around the world have the same visual aesthetic.  In addition, we used SGM P2 and some more Pointe to light the VIP deck, and a combination of SGM P2 and LED Parcans to add some colour and atmosphere to the catering/bar area outside," Bates explained.
From a video standpoint, Smuts listed Protec's Mambo 9mm LED 16×10 panel Screen – 1280×800 pixel resolution with 2x VX4S Controllers for Main/Backup and automatic failover switch – Roland V-800HD switcher to switch Resolume, Satellite Camera Feed and Playback Pro to screen.
He added, "Last year the switcher was analog way saphyr and we had 2 IMAG screens for camera feed. This year required only 1 main screen and a less complicated control. We supplied a duplicated output signal from satellite to an activation stand with an LED wall so people there could see other countries on the advertisement screen."
The video team overcame any challenges that could have potentially arisen with the live stream due to their experience from last year. Foreseeing any potential obstacles, the show went smoothly and the audience in Abu Dhabi were transported to Boom in Belgium for a couple of hours.
Ed Ross, Protec's HOD described the audio setup, "It was all relatively simple this time with no challenges at all. We used our L-acoustics K2 with K1-SB flown above and SB28 subs on the ground. It differed from last year as we had a lot more weight loading capacity this time round so we were able to fly a very large array for the main hang and then a small kara array for delays for the VIP deck."
The hangs Protec used were L-Acoustics 4 x K1-SB and 18 K2 per side ensuring depth, richness and clarity of sound identical to each UNITE venue worldwide. The delays were 6 x L-Acoustics Kara and 2 x SB18 per side. Ross chose 24 x SB28 for subs. For communications Protec used 3 x Clearcom Helixnet master stations networked together and 10 x Clearcom Freespeak II wireless comms. These have the ability to maintain a strong and continuous wireless connection with clear audio across an expansive area making them an ideal system for this event.
According to Leigh Snyman of Protec's scenic and staging department, this year's Tomorrowland scenic set had a few changes and alterations from last year. Firstly, the entire set was scaled down to a total height of 15.8 metres and a width of 22.8 metres. The reason for this was to fit the set into the new venue in du Forum, where Snyman and his team were limited by the height and width of the venue.
When asked about the challenges faced Snyman explained:
"The towers were the most challenging part of the new restrictions as we had to cut them down by a total of 2.4meters. This meant we had to remove a large section of each tower without compromising the structural integrity and the overall appearance of the towers."
Other changes to the set were simpler to make. Cogs had to be shifted slightly to allow for the changes made to the towers. New graphics and prints also had to be altered, which were a simple fix for an experienced team.
Getting the set and entire visual effect to be uniform across all the venues involved working closely with the lighting team.
"We also had to work hand in hand with the other departments, especially with lighting. Because of the changes made, lights were shifted slightly and we had to cut new access holes into the set panels for them," Snyman added, "Those were the only major changes and challenges we had on site. Before we started the build, we sat down and worked on a realistic and practical timeline to make sure the build was carried out without any delays. We made a day by day schedule on the entire sequence of events, including Abigail and the lighting department. We also planned a worst case scenario schedule for this gig to ensure we were prepared for any pitfalls or external factors along the way. In short, we were extremely well prepared for the gig from the very beginning right through."
Protec project manager, Pieter Smuts paid tribute to the excellence of his crew for the weeks of planning, preparation and successful delivery, turning an ambitious and ground-breaking concept into a reality. "The show itself was amazing to be a part of – it looked great and sounded great," he said. "There were no issues and I could not be happier. We look forward to partnering with Envie events again very soon."
Director of Envie Events, Barry Pavic, reflected on another successful Unite with Tomorrowland leaving us with these final words:
"Our goal is to bring people from all walks of life, countries, backgrounds and unite them as one with the power of music. That is exactly what UNITE with Tomorrowland did once again and we are very happy with the feedback. It is with the help of strong partners like Protec, and many others, that have made this concept such a huge success in the UAE."